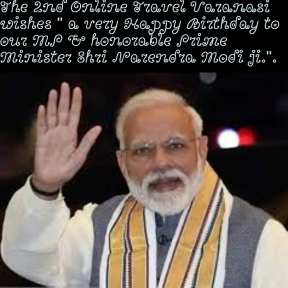 Varanasi MP's 72th Birthday — the 2nd to None
Shri Narendra Modi as a person has always been a great inspiration for the people of India. Furthermore, his ideologies and beliefs have recognition. Shri Narendra Modi not only gained popularity in India but also in several countries . Shri Narendra Modi's optimistic nature and challenging capabilities have led to an impact on our nation. Moreover, his way of turning the crowd and expressing his thoughts is making him a remarkable politician. Shri Narendra Modi has may fan in the country as well as in other nations. This is because he travels in different countries throughout the year. Narendra Modi was born on 17th September 1950. The birthplace of Shri Narendra Modi is Vadnagar, Mehsana district, Bombay State (present-day Gujarat). For your information, Shri Narendra Modi's full name is Narendra Damodardas Modi. He belongs to a middle-class family. Furthermore, Modi joined RSS( Rashtriya Swayamsewak Sangh). He worked in it for several years. Also during his service, he played important roles in serving the people. Narendra Nodi started working really hard from an early age. Moreover, he has also represented as a true Hindu, because of which he is a role model for many Hindus.
In the 2014 General Elections Narendra Modi won by the vast majority. He became the 15th Prime minister of India. Shri Modi became the first prime minister after many years to get the whole majority of votes. On the day of 26th May 2014, he swore the oath as a prime minister. From that day onwards various amendments in our constitution took place. Modi is a man of vision, he had a dream of digital India. Because of which he started various campaigns to promote it.
Furthermore, he wanted a corruption-free India and to imply this he took a major step. He ordered demonetization in the entire country. Under it the current currency became invalid. In order to get the new currency, people have to exchange it from the old ones. This was only possible by depositing all the money in the respective bank accounts. This was a major event in the history of India. Because of his good work towards the people of India Mr. Modi's Bharatiya Janata Party and its allies won close to 350 seats in the 545-seat lower house of Parliament. He is the first prime minister in nearly 50 years to win majorities in the Parliament in back-to-back elections, and now commands a sweeping mandate to govern a nation of 1.3 billion people. In my opinion , he is the best ever prime minister of India and certainly 2nd to none.
Ramesh Verma CMD , the Second Online Travel – the 2nd to none .