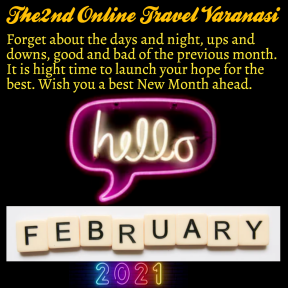 Hello February 2021- Varanasi Travel & Tourism
( The Second Online Travel, Varanasi, Uttar Pradesh)
February is the only month of the year that has less than 30 days and was also the second month in the Julian calendar, the Gregorian calendar's predecessor. February is named after the Latin word februum, or maybe even the more ancient februa, which was a spring festival of washing and purification. The month of February did not originally exist in the ancient Roman calendar. The winter season was a period without months, and the calendar consisted of only ten months. February was added, along with January, to the end of the Roman calendar year around 700 BCE, so that the calendar would reflect a standard lunar year of 355 days. February became the second month of the year around 450 BCE, although it was initially the last month of the year. With only 28 days in common years and 29 days in leap years, February is the shortest month of the year. For that, we can thank the ancient Romans and their superstitions. The Roman calendar was designed to reflect the length of the lunar months. A calendar year lasted 355 days, which is the approximate duration of 12 lunar months. A straightforward method of dividing this time span into 12 calendar months would have been to have some months with 29 days and some with 30 days. However, since even numbers were considered unlucky in ancient Rome, we ended up with a calendar that has seven months with 29 days and four months with 31 days instead. This left February, the last month of the year, with the remaining 28 days.
February is the month of love – a time for Valentine's Day and remembering love – emphasizing the importance of love in our lives. It's not very unusual for us to fail to put 2 & 2 together, but love and grief are intimately related. You can't have one without the other. Many experts believe that it originated from St. Valentine, a Roman who was martyred for refusing to give up Christianity. He died on February 14, 269 A.D., the same day that had been devoted to love lotteries February also marks American Heart Month, along with some other "months" you might not recognize: Canned Food Month, Grapefruit Month, Hot Breakfast Month, and our favourite, Return Shopping Carts to the Supermarket Month. February got its start as a spring-cleaning festival.
We, at the Second Online Travel Varanasi, wish you to leave old troubles alone and enter into a new month with fresh ideas and enthusiasm. Who is to make your life better, if not you? Happy new month, February,2021 !
Ramesh Verma CMD, the Second Online Travel, Varanasi, Uttar Pradesh